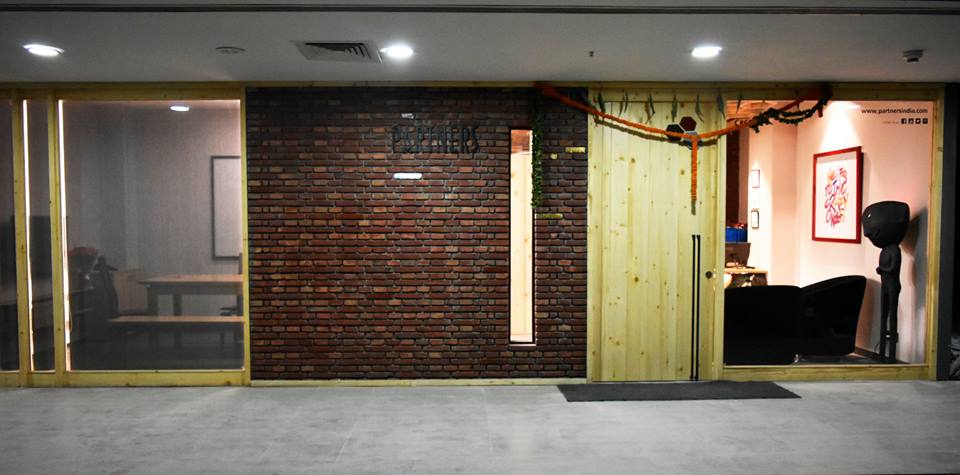 Having nestled for about 15 years toward the outer contours of the beautiful city of Chandigarh, Partners has been quietly casting it's brand from the shingles around. Our old office space was a splendid host to us and holds a major credit line in the story of our success. In the 17 years of our being, we grew from a one-man band into an interdisciplinary team of professionals who; and I'm not bragging; are amazing at what they do.
We built some great memories in the space whilst creativity crammed us into a full-service agency. We started small and with hard-work, we gradually became associated with some of the leading national and international brands. All of us ecstatically did new work each day- we were writing copies, making creatives, designing campaigns and doing everything you would expect a full-service conventional advertising agency to do.
It was soon that came the outgrowth of need- with new people joining the sail each day, limited space constrained us. Partners was growing and we had to have more resource and infrastructure.
It was time to move.
That leads us to the beginning of 2016. After a long haul of waiting for our new creative space to be set up, we finally moved into a new working home in Elante at their Office Suites, Industrial Area- l, Chandigarh, that we're absolutely thrilled to be working from.
When we first stepped foot into the new office in March last year, there was a complete change of energy. Paying special attention to every detail, the workplace altogether is a compelling piece of art- each element demands separate attention, for each signifies our working principles.
An open-head art right as you enter the doors implies at our open mindedness toward willingness to try new things. We aren't afraid of getting lost in the clutter, because we won't. We keep ourselves adept on everything that is new. Each partner of our team is more than welcome to put forth new ideas that we all listen and consider.
We worked on a play of light and shadow too, strategically creating the impact of darkness and light. The shadows teach us and the light makes us grow!
The little frogs on the flooring here and there mark our faith in the idea that nothing good comes without taking a good leap. A beehive adorns the ceiling, for we're hardworking enough to yield fruitful, sweet and bountiful results.
The wings of creativity reaffirm our ideology of uncorking the imagination to soar high- higher than one can imagine.
Beyond philosophy, we blended cheekiness into the space. The walls are adorned with some crazy paintings and brazen wall art, part of which we made in-house. There's a special place in our hearts for crazy ideas.
The new office puts us on the top of the space most aspiring agencies have been eyeing. Neighbors to some leading brands of their own niche, we are happily perched overlooking the busiest and the most happening mall of the city. The hustle-bustle of the leading restaurants at a walking distance keeps happening outside our windows while another part overlooks the blue waters of Hyatt Chandigarh.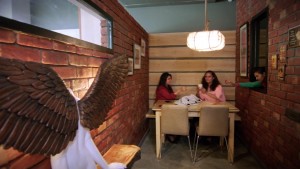 Our office at Elante is the base of our operations, also quite literally our second home. There's a living-room-like breakout space where we brew fresh ideas and a meeting room to put these forward. There's as well a private space for boss (we look for excuses to get into) that has a completely gripping maneuvering of ideas fermented in unison.
The team grew and so did the work we were doing. We were fast-growing.
All of us here quickly grabbed the rhythm of the work, ensuring a smooth transition- we were certain the move is the start of something great.
A year after moving in, we're a part of the vibrancy of the set of businesses that are establishing this area; putting a unique mark on it. We could have easily moved to either of the cities that are the hub to an advertising company, but we chose to stay in Chandigarh.
The city is in our hearts; so we chose to stay in hers.
The physical work on the office facilitated the digital product we came out with; which is exactly why Partners has become an aspirational workplace for those that are in any way associated with advertising.
In the last one year, the studio has rolled out thousands of creatives for all our clients and ourselves.
We transitioned from a conventional advertising agency to Region's Best Digital Creative Advertising Agency that is sprouting new shoots with each rising sun; defying norms to create responses beyond the ordinary.