Dating back to somewhere in 4000 BC, Advertising finds its roots in the Papyrus Printing in Egypt; moving to the 1620's Coranto from Italy. The dock cafe's become a permanent center for people's gathering and thus came out the first business ads. Since then, Advertising has served a critical purpose for businesses across the world- competing with each other constantly for buyers attention.
Advertising is one of the marketing means that comes with an invoice- often before seeing any results, but is used extensively yet for the long term residual effects.
Like everything else, evolution well hit the advertising industry- advertising turned into creative digital advertising and alongside came a bunch of freebies- the social media and digital channels- Facebook, Twitter, Emails, Referrals and Publicity.
Whether your business is an FMCG Provider or makes luxury/necessity goods or is just a whimsy out of home- a one-time announcement will not entail a steady stream of customers. Advertising, or rather continuously advertising your business is a must. So why is it that even though there are wonderfully available low cost and free ways to promote a business, yet conventional advertising continues to be a core lead generation tactic.
Here's why-
One- Traditional Media Channelizes Promotion
George Welton, author of "Advertising: Concept and Copy" says getting the word out that you have something exciting to offer is the primary objective of advertising. From an upcoming entertainment event to the selling of a new product line, a political campaign or the expansion of an existing platform, all of it needs promotion. Advertising adheres to the rules of journalism by tactfully identifying the who, what, where, when and why whether your advertising takes the form of a print ad or a commercial, a handbill or a billboard.
Two- It Caters to a broader spectrum
The audience is spread across various demographics and advertising caters to a broad spectrum of people. Traditional media and ATL (Above the line) marketing activities are worked out for humans that are focused at catching as much attention as possible customized and positioned for a sieved target group..
Three- Traditional media interacts with real people. Digital users as much may be real as a spammer or a bot. TV and Newspaper Ads counter this and interact with real people in real time. It helps raise the target group's demographic awareness of an issue, educating them on the real benefits of your product or service.
For instance, have a look at this ad from Google-
The digital giant chose the traditional media to amplify their digital ground- because the ad establishes an emotional link with a human element that a digital ad may not achieve.
Four- Traditional Media is trusted-
According to a study conducted by Ogilvy Media, 72% of people consider traditional media as a trustworthy means for content consumption. Anyone and everyone can post anything on the social media while not so in the case of traditional media. With a natural human approach linked to it, traditional media turn out to be deemed more trustworthy compared to the digital counterparts. A marketing mix therefore is the best play to choose to amp up!
Five- Traditional Media is less intrusive-
How annoying is it when you've reached the most thrilling part of a movie and YouTube decides to slam a non-skippable 30 second ad in your face? A recent study found that a user who has access to multiple screens- a laptop, a smartphone or a tablet is more likely to consume an ad on TV! Simply because it is less intrusive.
Catering to the human nature that demands for simple things that match priorities in the best of ways traditional advertising is a means that does not require a user to wait for an advert to complete or a popup to close.
Strike a balance!
As a marketing strategist or an advertiser, it is essential that the importance of both- the digital media and traditional media is realised. Digital Advertising is an essential supplement, not a substitute. The final goal is to reach the most people- independent of what means are chosen. The best way to do so is to weigh the outreach against the costs involved. Keep your campaign flexible to accommodate changes at any given point.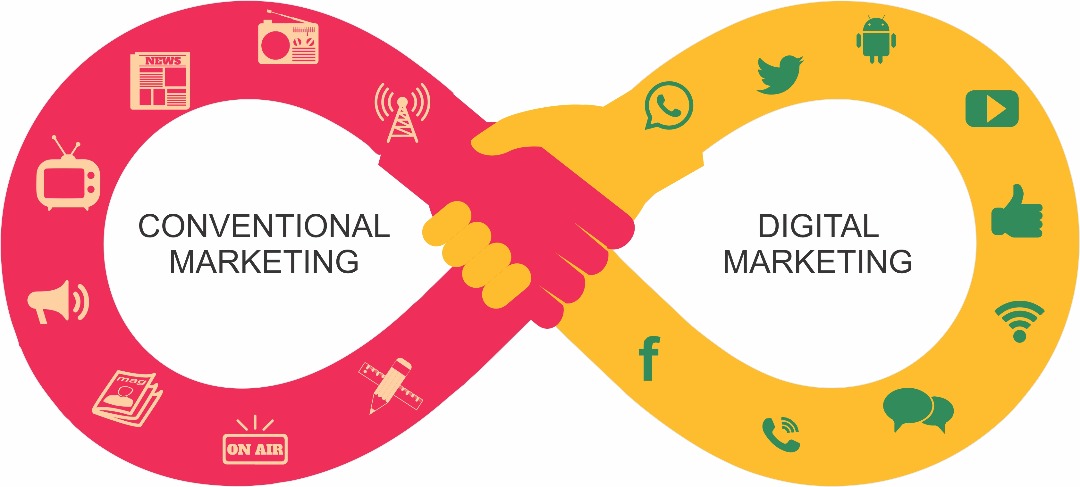 Tropicana in one of its recent campaigns carefully utilized the potential of the digital media with integrated efforts in traditional marketing to achieve the desired outreach. The brand used massive digital billboards to catch audience attention and and consequently bring them to their social media pages. The brand struck a massive audience thus achieving the desired output.